Since 2020, we have been working with our waste collections contractor, Veolia, to deliver a food waste recycling participation campaign to more than 100,000 households across the SLWP region.
Why is it so important to recycle food waste?
There's a lot of it: Recent studies have revealed that around one-third (by weight) of what's in an average rubbish bin in the SLWP region is food waste. See What's in your bin? for details.
There's lots of potential: A significant proportion (between 17%-39%**) of people who live in the four SLWP boroughs say they don't recycle any of their food waste; despite a weekly food waste collection service being freely available to most households.
It is a valuable resource for UK farmers: Food waste that has been separated for recycling is turned into a nutrient-rich liquid bio-fertiliser that is used by UK farmers to help grow the fruit and vegetables that end up back on our plates.
It can power our homes: The gases produced during the digestion process (which takes about 75 days) are captured and used to drive a turbine which generates electricity. The electricity is fed into the National Grid. See

Destination Recycling

for more details. Recycling just one banana skin generates enough power to charge your mobile phone twice!
It can help your council fund other vital services: 

Every tonne of food waste that is recycled instead of thrown away delivers a

net saving to your local council of around £100

. This is money that can be invested in other vital front-line services such as looking after vulnerable adults and children, at a time when council services are under intense financial pressure.
Recycling just one banana skin generates enough power to charge your mobile phone twice!
What does the campaign involve?
Over the last few years, we've been working with Veolia (our waste collections contractor) to identify collection rounds where we believe separately-collected food waste tonnages are on the low side. We then conduct participation monitoring in these areas, which involves getting up early to walk ahead of the crews on collection day and counting what proportion of households have presented a food waste bin for collection.
We use this data to decide which collection rounds we are going to target for the campaign, which involves visiting the property on collection day and delivering:
An information leaflet

explaining how easy it is to recycle food waste

, the benefits of recycling food waste and how to order replacement food waste caddies if they are missing or damaged
A free roll of 12 biodegradable liners to line the food waste caddy
A 'No Food Waste' sticker on the lid of the rubbish bin
Social media and digital advertising targeted to the neighbourhoods where the campaign is being delivered
Results
Since 2020, the campaign has been delivered to 101,461 properties across the SLWP region. It's a simple but effective campaign: Participation monitoring carried out after the campaign has been delivered suggests that it increases participation in food waste recycling by around 10%.
Since 2020, the campaign has been delivered to 101,461 properties.
Got questions about recycling and minimising food waste?
If you have any questions about food waste recycling or minimisation, why not drop by at one of our pop-up events where experts will be on hand to answer all your questions:
Tuesday 24 October 2023 (11am-3pm), Croydon North End (outside Barclays Bank/Primark)
Thursday 26 October 2023 (11am-3pm), Trinity Square, Sutton town centre
Wednesday 1 November 2023 (11am-3pm), Wimbledon Piazza
---
* Research by Tesco: Forgotten food costing families approx. £800 a year
** Enventure Research, Waste Services and Street Cleaning Resident Insight Research, 2022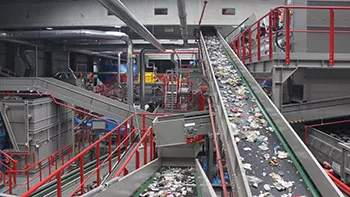 Destination recycling
What happens to your recycling after it's been collected? Where does it go? What's it turned into?
Destination Recycling
The Waste Hierarchy
Most preferred environmental option
Reducing waste is the most preferred option. Minimising the amount of waste we produce in the first place is by far the most effective way of reducing the impact we have on the environment.
When waste is created, the waste hierarchy prioritises reuse. Where possible, reusing products and materials before it becomes waste is the next best option. By cleaning, repairing and refurbishing items, we can significantly increase the number of things we reuse.
Recycling is the most environmentally sustainable solution when it comes to disposing of waste. Recycling essentially turns our waste into new items or products, reducing the amount of raw materials required.
For waste that can't be re-used or recycled, energy recovery is the next best option. Energy from waste is the process of incinerating non-recyclable waste to produce electricity. It helps to reduce our reliance on fossil fuels for power generation and decreases carbon emissions.
At the bottom of the waste hierarchy is the least desirable option: disposal.  This is when waste is either sent to landfill or treated in an older-style incinerator that doesn't recover energy from the process. Disposal should always be the last resort for waste.
Least preferred environmental option
Read more about our partnership